Trekking
5d4n Ajuani - Milluni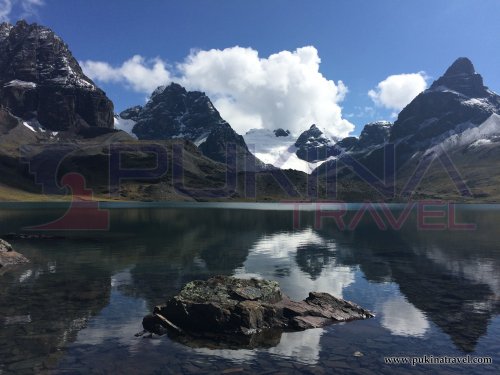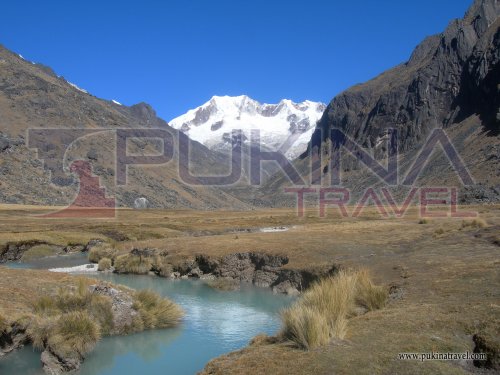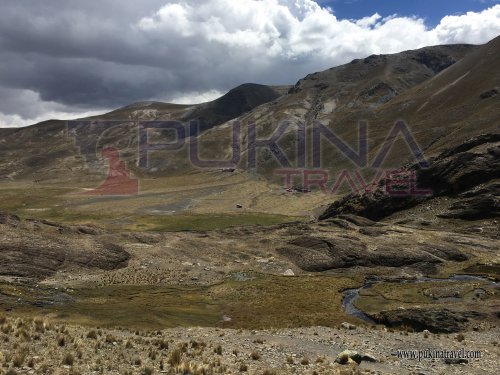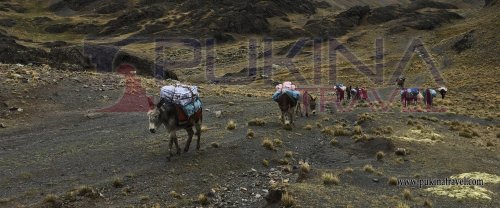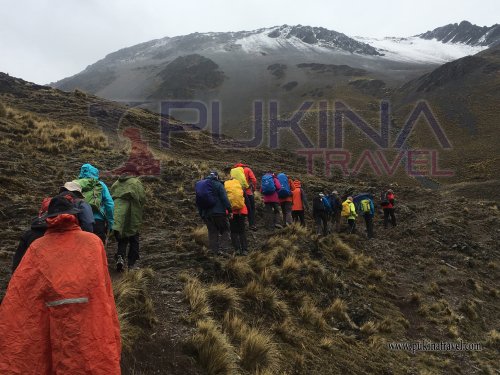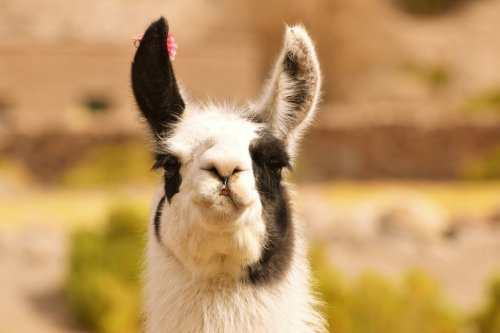 5 Días
|

Camping
|

Transport
|

Feeding
5d4n Ajuani - Milluni
Day 1: La Paz – Laguna Ajwani (4.720 m) – Jurikhota
Day 2: Jurikhota – Laguna Chiarkhota (4.700 m)
Day 3: Chiarkhota – Pico Austria (5.320 m) – Chiarkhota
Day 4: Chiarkhota – Carmen Pampa (4.450 m)
Day 5: Carmen Pampa – Laguna Milluni (5.000 m) – La Paz
HIGHLIGHTS:
Trekking in the heart of the Cordillera Real Range of Bolivia.
Magnificent views of the arid brow Altiplano and the brilliant blue Titicaca Lake.
Spectacular views and a close up to the snow caped mountains.
Many photogenic llamas and alpacas along the journey.
This is high level trekking, we travel crossing the west area of the Cordillera Real Mountain range, going through the heart of the region with spectacular views, of the Huayna Potosí Mountain.
Day 1. - La Paz - Laguna Ajuani 4.720m– Jurikhota
About 2 hours and a half of driving until we get to this beautiful area where we start our trekking at 4.700m, then we ascend slantingly and arrive to Sistaña Lagoon, then we reach the pass of 4850m. In the afternoon we arrive to the Juri Khota Lake, surrounded by snowcapped mountains, we set our camping near the shores of this lake. 5-6 hours trekking.
Camping in tents.
Day 2. -Jurikhota – Chiarkhota 4.700m
Today you will continue trekking through the Andes. Ascend through the mountains and cross two passes in short succession at 4900 and 4750m between the rocky peaks of Ventanani and Janchallani hills, if the weather is good you will enjoy breathtaking views of Tuni Condoriri group: Ala Norte 5530m, the Cabeza del Condor 5.650m and Ala Sur 5480m, then we descend to an exquisite campsite at Laguna Chiarkhota. Camping at 4600m
Today's estimated trek time is 6 hours.
Camping in tents.
Day 3. - Chiarkhota - Pico Austria 5.320m - Chiarkhota
After breakfast this morning, we ascent Pico Austria, an easy path zigzag its way up this rocky mountain to its summit, from which the views north dominate a big portion of the mountains in the area and looking at the valley itself the lakes in the distance and the snowcapped mountains is really something to behold for weeks. This trekking will take us about 5 hours approximately round trip, on the way back we take the same route and descent to the shores of Chiarkhota lagoon where we will find our camping site.
Today's estimated trek time is 5 hours.
Camping in tents
Day 4. -Chiarkhota - Carmen Pampa 4.450m
It's time to say goodbye to the lovely camp site of Chiarkhota, we trek across the mountain pass of Sistaña 4.900m into the northern valley, descending fields of puna grass, until we reach our camping in in a good spot at 4.450m at the base of Maria Lloco mountain 5222m
Today's hiking time will be approximately 6 hours.
Camping in tents
Day 5.-Carmen Pampa - Milluni Lake - La Paz
We will reach a pass of Huallatani 4.850m and walk towards moraines, on the way you will see the Milluni Lake, and if the weather is clear you'll be able to see the snowy peak of Huayna Potosi 6088m, soaring overhead. At the base our vehicle will be waiting for us, at this point we return to La Paz two hour's drive.
Today's hiking time will be approximately 4 hours
Included:
Private transportation round trip
English speaking guide.
Llamas or mules to carry most of the gear
Camping gear (two-person tents, and inflate mattress)
Cook
Complete meals
Thermal-Rest
Oxigen bottle
Not included:
Sleeping bag: -5º C 40usd for the whole trekking tour
Bottled drinks
Extras
Tips – Gratuities
Insurances of any type
WE SUGGEST
Comfortable trekking shoes
Sun lotion
Water proof jacket or poncho (during the rainy season – January to March)
Price per person, please contact us to the Whatsapp +591-73088333 or to the email: info@pukinatravel.com to request your quote.