Trekking
3d2n Tuni Condoriri, trekking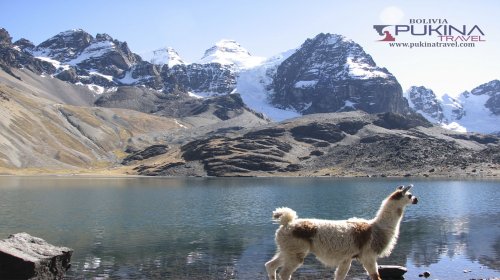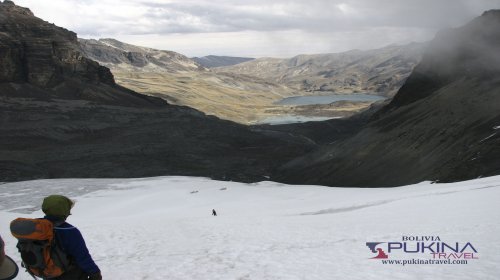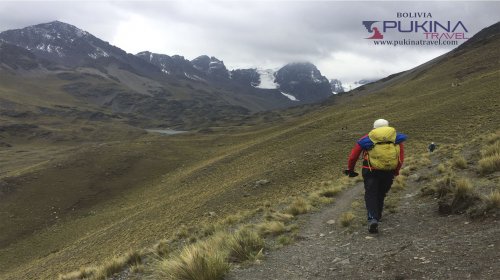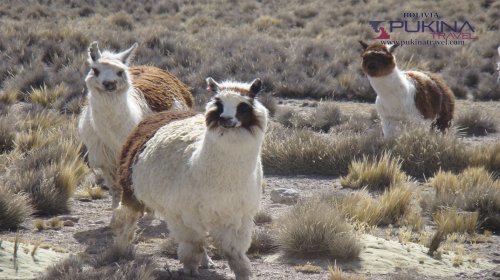 3 Días
|

Camping
|

Transport
|

Feeding
3d2n Tuni Condoriri, trekking
HIGHLIGHTS:
Observe beautiful scenery along our trek, visiting the Condoriri National Park, with the added advantage of having llamas that will carry our baggage.
Imposing views of the exceptional condor shaped "Tuni Condoriri" Mountain.
Isolated landscape with spotless lakes and Andean fauna like the gulls, ibis, Andean Geese and wild ducks.
Two passes over 5000m/16300ft.
Spectacular close-up views of glaciated peaks.
The Condoriri National Park displays a great natural potential. Beautifully preserved, it is tucked away in the mountains dotted with crystal clear mountain lakes, a product of the constant thawing of glaciers. We pass stunning ice stalactites forming their unique shapes down cascading waterfalls.
As we ascend the mountain chains around La Paz, the Andean landscape appears to become even more brilliant due to the presence of numerous lakes of various colors. In its frigid waters live trout of great sizes that can easily be caught with simple equipment.
This trek is really interesting because it ascends completely solitary mountains; the complete silence of the mountains is only disturbed when passing llamas break up the ice underneath their hooves, creating small trickles that eventually wind their way down to Lake Titicaca. From these altitudes you can observe the silvery shimmer of light reflected by the world's highest navigable lake, while trekking in the company of numerous llamas, the occasional alpaca and many smaller animals such as rodents similar to the chinchilla, known as "viscachas", lizards, ibises and gulls among others.
DAY 1: La Paz- Chiarkhota lagoon
In order to arrive at this magical place, we will arrives "Palcoco" village and from this point take the secondary access dirt road, until it ends. It takes about two hours by car from La Paz. Here we will be met by our muleteers who will carry all the essential necessities on the backs of their mules or llamas. The trek commences at a height of 4.300 meters where we will trek progressively to an altitude of 4.620 meters until we reach our base camp, on the shores of the beautiful Chiarkhota lagoon at 4.620 meters we will have an impressive view of Tuni Condoriri Mountain 5.648 meters also time free to enjoy the scenery while our cook prepares a delicious meal.
Meals: lunch and dinner
Night: Camping or basic lodge
Day 2: Chiarkhota lagoon – Maria Lloco
An early wakeup call is well worth it, as we observe the beautiful Andean sun, rise over the snow covered mountains. Today we will trek over two mountain passes, observe part of the majestic Huayna Potosi Mt 6088 meters and then start our descent, until the Maria Lloco, after 7-8 hours trekking, we arrive to our campsite at an altitude of 4200 meters.
Day 3: Maria Lloco - Milluni
Today we will reach a 4.900 meters pass, our trekking gently descend around moraines, we will see the Huayna Potosí Mountain as well as the Milluni Lake, our vehicle will be waiting for us there to drive us back to La Paz.
INCLUDED:
Transport to and from the trek in private vehicle
All Meals.
Camping gear: 2 person tents, mess tent, camping chairs, camping tables
Professional trekking guide.
Entrance fee to the national park
Mules to carry most of our equipment.
Foam mattress and therma rest
EXCLUDED:
Personal equipment
Sun glasses
Sleeping bag
Breakfast of the first day and dinner of the last night
Price per person: 290USD, base 4 clients
For other price ranges, please contact the email: info@pukinatravel.com or WAPP +591 73088333