Climbing
2d1n Acotango 6.057m, climbing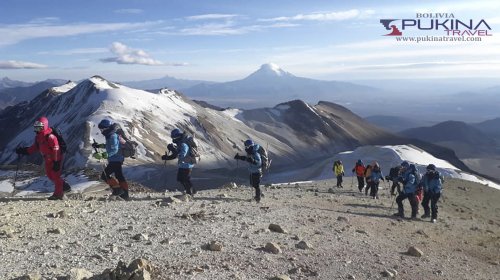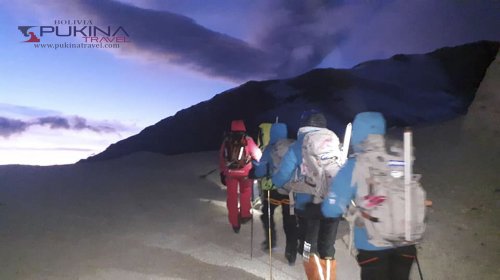 2 Días
|

Lodging
|

Transport
|

Feeding
Acotango 6.057m, climbing
Highlights:
Accessible climb to Acotango 6,056m; exceptional view of the Sajama, Parinacota, Guallatiri Volcano and the Lauca National Park.
Beautiful landscapes of the Highlands and within the Sajama National Park and on the way that leads us to our goal the climbing of the Acotango.
Attempt to reach the top
Technical Facts:
Length: 2days 1night
Height difference: 1350 m.a.s.l
Base Camp: at 4,700 m.a.s.l
Technical difficulty: moderate
Average degrees of slope: 45 °
High Camp: 5.150 m.a.s.l
Averange climbing time: 4-5 hours
The Acotango (6057m) is a volcano located in the border between Chile and Bolivia in the Western Mountain Range. It forms together with the Humarata volcano (5730 m) and the Capurata volcano (5990 m) the Quimsachatas massif that in Aymara means "Three twins". Its ascension is not hard, but relatively long.
Day 1: La Paz - Sajama National Park (4270m)
Departure from La Paz by private vehicle to reach the Sajama National Park after four hours. In the afternoon there will be a short walk to enjoy the microclimatic high-altitude valley, with good opportunities of observing Alpacas, Vicuñas, llamas and if we are lucky the Andean ostrich. According to some scientists Sajama is the tallest forest in the plain, due to the presence of the keñua trees (Polilepsis Tarapacana) which subsist even up to 5.100m altitude.
Once we arrive to Sajama National Park we will find our accommodation it is possible to visit the hot springs.
We will spend the night in a rustic shelter with private facilities.
Day 2: Sajama town – Chachacomani – Acotango (6052m) – Sajama – La Paz

At 03:30am From Sajama town we make our way by vehicle to Chachacomani; a little town near the base of the Acotango. Immediately we will take the mining route on the "Quebrada del Cóndor Jipiña" (4800m). From there we climb to the top of the Acotango mountain in approximately 6 or 7 hours. The route is not technically difficult but quite demanding and requires good physical conditions and acclimatization to the altitude. Together with the expert mountain guide we will follow the rim of an old and almost completely eroded crater, walking either on snow, ice or soft, sandy terrain, according to the season of the year.
The effort is well rewarded, with incredible views of snow-capped mountains. If the weather conditions allow you will see the giant Sajama 6,542m, the symmetrical Parinacota 6,330m and you will also see the front of the smoking cone of Guallatiri 6071m.
We will arrive at the base camp between 12:00 – 13:00pm and thenn return to La Paz 5-6 hours' drive.
Included in the program:
Round trip in private transportation
Climbing gear (mountain helmet, plastic boots, crampons, gaiters, harness, ice axe, and mittens).
Common climbing equipment: ropes, carabineers, slings, snow stakes, ice screws.
Professional bilingual English speaking guide during the trip (on mountaineering trips, we only work with certified mountain guides).
Tasty fresh meals during the expedition
One night in mountain lodge, Sajama
All the meals according to the day by day program
Not included in the program:
Warm clothes, sun glasses, and personal cleaning items.
Sleeping bag (optional for rent)
Insurances of any type, medical expenses, cost of evacuation.
Charges incurred as a result of delays and itinerary changes beyond the control of Pukina Travel, we recommend travel insurance to cover any unforeseen costs.
Tips and gratuities (optional)
Alcohol and/or bottled drinks
We recommend limiting your bag weigh to 8kilos/17pounds
Entrance fee to the national park and thermal pools
Extras
Prices depend on the number of clients
Contact us to at the email to discuss budget: info@pukinatravel.com or WAPP +591 73088333