Climbing
4d3n Illimani 6.462m, climbing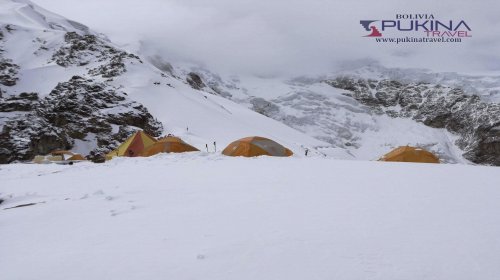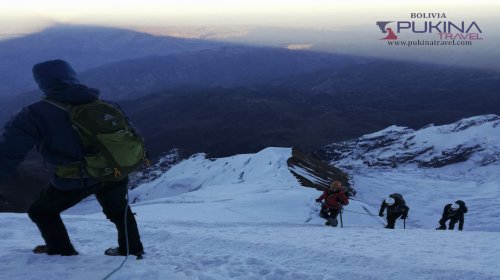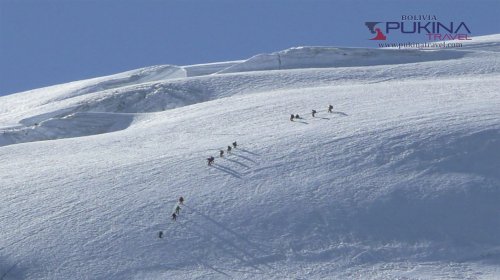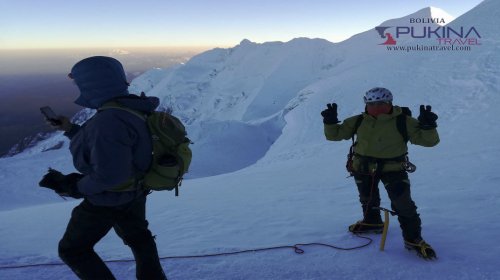 4 Días
|

Camping
|

Transport
|

Feeding
Illimani 6462m/21,195ft.
Duration: 4 days / 3 nights
Technical Difficulty: AD/AI 2.
Base Camp: 4700m.
High Camp: Nest of Condors 5,500m.
TOURIST ATTRACTIONS:
One of the highest mountains in Bolivia.
Considered the most sacred mountain in Bolivia.
Countless Photo Opportunities
Mountain covered with eternal snow.
Illimani is a very attractive extinct stratovolcano, many articles were dedicated to this mountain considering it to be the guardian of the city. The mountain has been climbed since 1877, and has several peaks permanently covered in snow, three of them over 6,000m.a.s.l., the highest reaching an altitude of 6,462m. This mountain is reserved for well determined climbers with the soul of conquerors, since it is a technically demanding mountain.
Itinerary:
Day 1: La Paz 3,600m – Pinaya – Puente Roto 4,460m
Leaving the city of La Paz, heading southeast on board our all-terrain vehicle, we will arrive at a small town "Pinaya", where we meet our muleteers and mules ready to load most of our luggage and begin our ascent to the base camp called Puente Roto. On the way we will be able to observe rural life, and then enjoy tasty meals prepared by our cook. After about 3 to 4 hours, we will arrive at the camp at a height of 4,460m.
Camping night.
Day 2: Base Camp 4,460m – High Camp 5,500m
Today our ascent will reach 5,500m in Nido de Cóndores, the place of our camp. If the weather is good, an extraordinary setting is reserved for us to appreciate views of the snow-capped Huayna Potosí 6088m, and even in the distance the snow-capped Sajama as well as Lake Titicaca and the altiplano.
Camping night.
Day 3: High Camp 5,500m – Summit 6,462m – Base Camp 4,700m
An early departure is recommended to make the effort to reach the top, the southern crest of Illimani, avoiding long cracks on our ascent, always climbing to the left. We will reach an apparently inaccessible crack, but on the left it has a bridge that, with the assistance of our guide, makes the climb less difficult. From there a snow shovel is taken to lead us to the north of the main top. At 6,300 m a.s.l. you reach a plain from where you can see the entire massif and its 4 peaks. From this point continue south to reach the summit in 1 to 2 hours. After a well-deserved rest, we begin our descent towards the Puente Roto camp.
Camping night.
Day 4: Base Camp 4,700m – La Paz
This day we continue the descent with a walk to the town of Pinaya. After a refreshing lunch, we will return to La Paz by private transport.
IT INCLUDES:
Round trip private vehicle.
Specialized high mountain guide (1 guide for every 2 clients)
Mules to carry the equipment of the population of Pinaya to base camp and return.
Experienced cook
Fresh and tasty meals during the expedition.
Porters to assist us carrying the equipment from base camp to high camp and return (customers are suggested to limit their weight to 10 kilos per person).
Climbing equipment that our company provides at no additional cost: (ropes, climbing carabineers, crampons, gaiters, harness, ice ax, mountain helmet)
EXCLUDED:
Medical or evacuation expenses.
Health/Accident insurance.
Sleeping bags, possibility to rent
Mountain boots, possibility to rent
Extras