Climbing
3d2n Parinacota 6.330m, climbing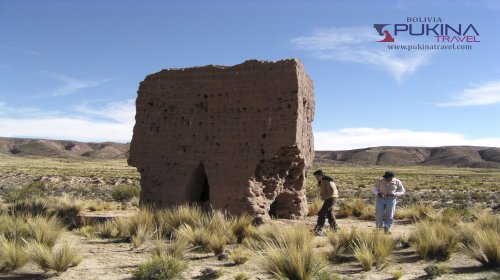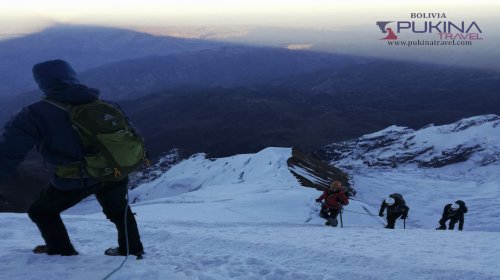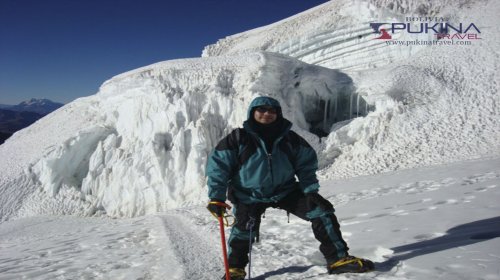 3 Días
|

Lodging
|

Transport
|

Feeding
Parinacota 6.330m, climbing
Technical facts:
Technical Difficulty: AD/AI
High Camp I: 5,200m.
Summit II: 6,330m
Average degrees of slope: 50 °
Climbing time: 6 hours +/-
Highlights:
A perfect cone-shaped volcano covered with a big crater of 11km in diameter.
One of the highest active volcanoes above 6000m
A good non-technical option for climbers eager to conquer a 6000m peak.
Attempt to reach the top
Southwest of La Paz, located in the Department of Oruro, on the border with Chile we find one of the most beautiful snowcapped mountains in the Andes, Mt. Parinacota. This mountain forms part of the western mountain range and is characterized by being a volcanic zone. Inside this national park we also find the snow covered peak Mt. Sajama; at 6500m this is Bolivia's highest mountain and the park is home to various protected flora and faunas including the llama like Vicuñas. The park covers about one thousand square kilometers and is also home to Pumas, Andean deer and the ostrich-like Rhea.
Description:
Day 1: La Paz - town of Sajama
From La Paz, we leave to the Sajama National Park. We will spend about 5 hours aboard our vehicle, on the way we will be able to observe the beautiful highland panorama with snow-capped mountains that form an imposing frame contrasting with the deep blue of the highland sky, in addition to some archaeological sites that treasure "chullpares" dating from the period of the Aymara culture and that are part of the Bolivian cultural legacy.
In the afternoon take advantage of the healing waters in the thermal baths and the views of the Andean fauna of the place.
Food: Lunch and Dinner
Lodging: in the town of Sajama
Day 2: Sajama-Campo Alto - Parinacota Summit - Sajama
An early departure awaits us from the town of Sajama. Aboard our all-terrain vehicle we will cross through a valley of volcanic sand to reach the high camp, then we will begin our ascent along the normal route from a gap that divides the Payachatas, for our attempt to reach the summit, it takes about 5-6 hours to climb up to 6330m. From this point we will enjoy an impressive view of the Sajama volcano and, if the sky is clear, also the Chungará Lake. After recovering energy, we will descend along the same route, or a more direct path depending on the conditions, to the place where our vehicle awaits us to take us back to the town of Sajama.
Food: Breakfast, snack and dinner
Lodging: in the town of Sajama
Day 3: Sajama - La Paz
Today we will visit the geysers area where we will find more than 80 springs with constantly boiling water forming bubbles of different sizes, shapes and temperatures; this strange site will transport us back to the formation of the earth.
After a beautiful experience, we will prepare to start our return to the city of La Paz.
Food: Breakfast and Lunch
Lodging: Not included
Included in the program:
Private transportation round trip
Climbing equipment (mountain helmet, crampons, plastic boots, pair of gaiters, harness, ice axe and mittens).
Common climbing equipment: ropes, carabiners, stakes, ice screws.
Certified mountain guides
Tasty fresh meals during the expedition
Two nights in lodging in the town of Sajama
All meals during the expedition
Not included in the program:
Warm clothing, sunglasses, personal toiletries
Hiking boots, sleeping bag (optional to rent)
Medical and/or evacuation expenses, health insurance, evacuation costs
Charges incurred as a result of delays or changes to your itinerary beyond the control of Pukina Travel, we recommend having insurance that covers unexpected costs.
Tips/gratitudes (optional)
bottled drinks, alcoholic beverages
We recommend limiting the weight of your luggage to 8 kilos / 17 pounds
Entrance fee to the national park and thermal pools
Extras
Prices depend on the number of clients
Please contact us at this email to discuss budget: info@pukinatravel.com or WAPP+591 73088333