Trekking
1 FD Palca Canyon, hiking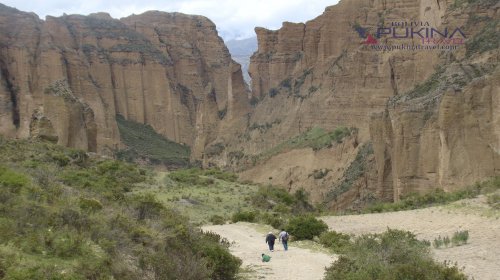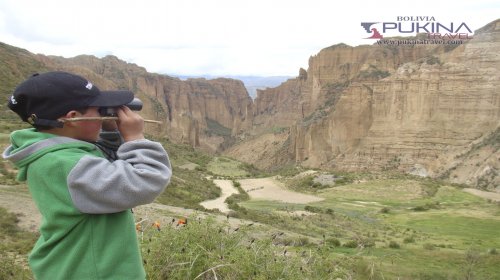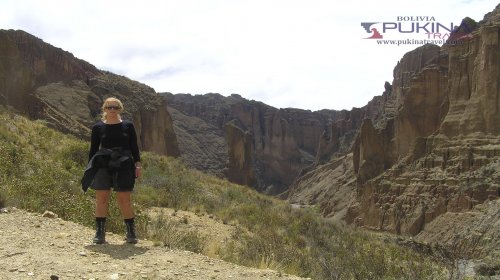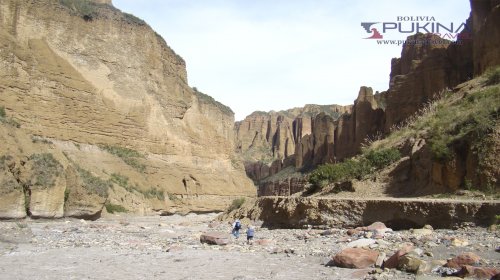 1 Día
|

Transport
|

Feeding
Palca Canyon, hiking
Highlights:
Deep canyons and strange eroded formations of clay and rock.
Attractive pinnacles resembling church organ pipes.
Good place to do some light hiking.
Over seven million years ago, the rains and wind formed a bizarre landscape in the gorges of the rivers that are tributaries of the Amazon.
The presence of mineral pigments give a colourful aspect to the mountains, volcanic rocks and fossil, next to the presence of hawks, eagles and other Andean birds, shows us a unique eco system. It's also a good place to do some light walking if you are trying to get acclimatized.
Itinerary
We leave towards south of La Paz on board of our vehicle, after two hours we arrive to the Palca Canyon and the immense Illimani Mt (6490m a.s.l) is observed, as well as multicoloured flowers along the rural areas that maintain their old life styles. Once we get to Palca community, we begin our trekking for about three hours until we arrive at a gentle area with crystalline rivers that humidify the fertile land of this valley. After a well-deserved break and tasty box lunch we get back to La Paz.
Price per person: Please contact the email: info@pukinatravel.com or WAPP +591 73088333
Included in the program:
Professional escort guide
Transport to and from the trek in private vehicle
Feeding
First aid kit
Biosafety protocols.
Special discounts for groups.
Not included and recommended:
We recommend: Warm clothing, rain poncho, comfortable walking shoes, sunglasses, wide-brimmed hat, small backpack and 1 bottled water, permanent use of a face mask, except for the walk where the recommended distances will be kept.
Everything not specified under "included in the program"