Climbing
4d3n Chachacomani 6.070m, climbing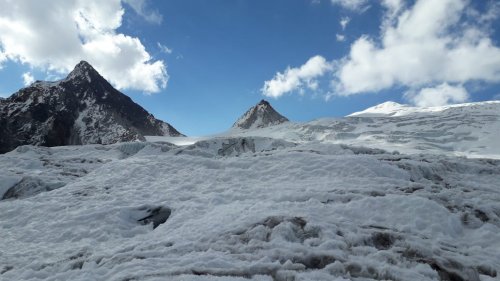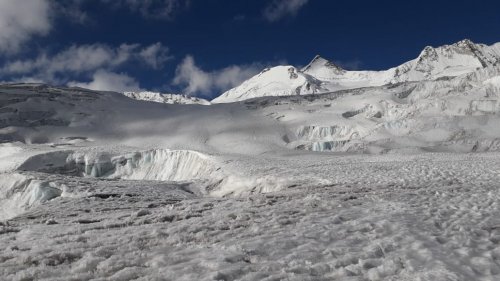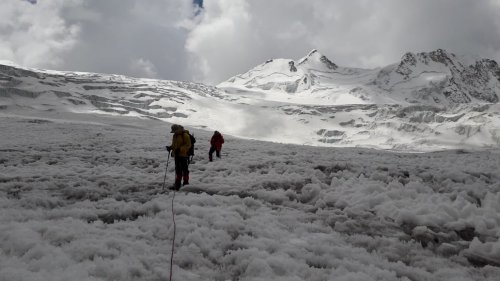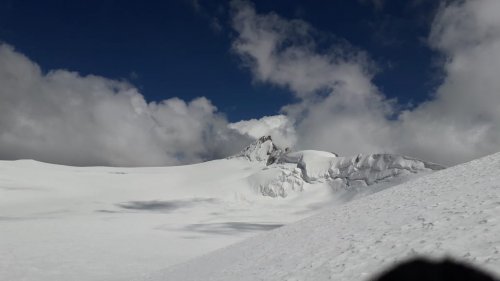 4 Días
|

Camping
|

Transport
|

Feeding
Chachacomani 6,070m, climbing
Technical facts:
Length: 4 days
Height difference: 1.375m
Technical difficulties: II / A.D
Medium slope: 40 / 50
Base Camp: 4,695m
High Camp: 5,130m
Best months for the climbing: From April to October
Located in the center of the Cordillera Real, the Chachacomani Mountain is gaining popularity for its great beauty. On a route that is not that technical, the glacier may be relatively extensive and its inclination does not exceed 50 degrees, which is why it is recommended for mountaineers from a level of basic experience. However, it is very important to bear in mind the altitude and your acclimatization in order to challenge this mountain.
Itinerary:
DAY 1: LA PAZ - ALTO CRUZ PAMPA - CHACHACOMANI BASE CAMP (4.695 masl)
We leave from your hotel in private vehicle; heading towards Peña village, from this area we find our way to the small town of Alto Cruz Pampa where we organize our trekking together with our team of mules and muleteers, after 3 hours of trekking to the bottom of the valley, and we will lead you to our base camp at 4.650m
Meals: Lunch and dinner
Camping night
DAY 2: BASE CAMP - CHACHACOMANI HIGH CAMP (5.130 m.s.n.m.)
After breakfast we will undertake a trek through a little explored terrain, across a path between plains and slopes we will climb to our high camp, we will approach to the base of the glacier 2h30 of trekking, we will set up our tents.
Meals: Breakfast, lunch and dinner
Camping night
DAY 3: CHACHACOMANI HIGH CAMP - CHACHACOMANI SUMMIT - BASE CAMP.
We start the ascent at 02:00 in the morning, this mountain displays in its first part an extensive journey over a glacier without a high degree of difficulty. In our attempt to the summit, we will overcome the different crevasses and little pronounced slopes. Continue climbing along the north side and a final slope of 40 degrees by 40 meters in order to conquer its summit. After a break we start our descent along the same route to reach the base camp.
Meals: Breakfast, box lunch and dinner
Camping night
DAY 4: CHACHACOMANI BASE CAMP - ALTO CRUZ PAMPA - LA PAZ
At 8:00 am, after breakfast we start our way back to the village of "Alto Cruz Pampa", where our vehicle will be waiting for us to drive us back to La Paz.
Included in the program:
Private transportation round trip.
Professional mountain guides (one guide for every 2 climbers)
Fresh and tasty meals during the expedition.
3 nights camping in mountain tents
Camping gear - foam and air mattress, two person tents (Type: 3 season's)
Crampons, gaiters, harness, and ice axe, mountain helmet
Dining and kitchen tent.
All the entrance fees and permits
Porters or mules and muleteers to help with most of the gear, until the high camp and back.
Oxygen bottle
Excluded in the program:
Warm clothes, sun glasses, and personal cleaning items.
Mountain boots, sleeping bag (optional for rent)
Insurances of any type, medical expenses, cost of evacuation.
Charges incurred as a result of delays and itinerary changes beyond the control of Pukina Travel, we recommend a travel insurance to cover any unforeseen costs.
Tips and gratuities (optional)
Alcohol and/or bottled drinks
We recommend limiting your bag weigh to 8kilos/17pounds
Extras.
Prices: Please contact us at this email to discuss budget: info@pukinatravel.com or send us a Whatsapp message +591 73088333