Climbing
4d3n Sajama 6.542m, climbing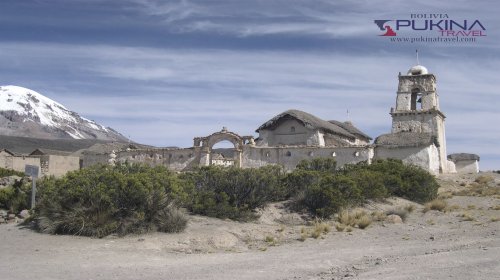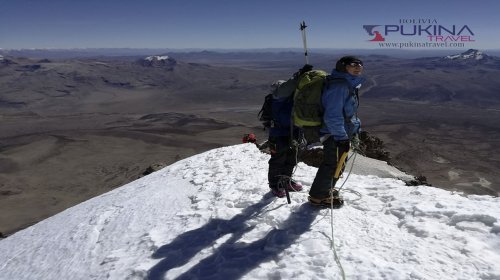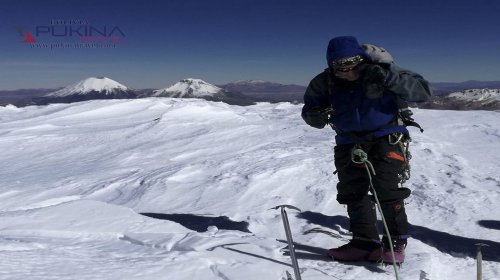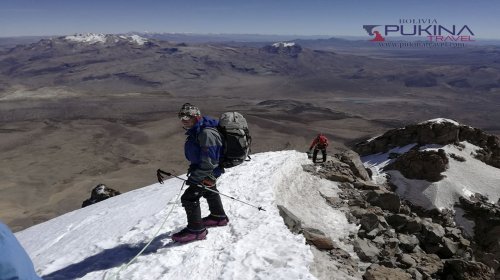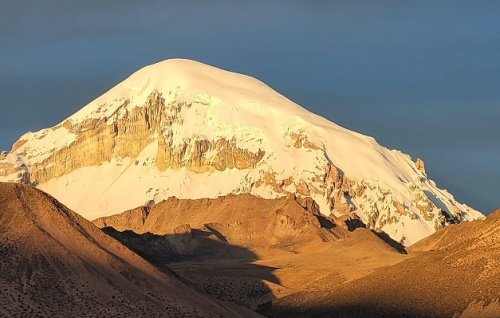 4 Días
|

Camping
|

Transport
|

Feeding
Sajama 6.542m, climbing
Technical facts:
Length: 4/5 days
Height difference: 1380 masl
Technical difficulties: AD (difficult)
Medium slope: 50 / 55 degrees.
Base Camp: Sajama Village at 4,400 masl
Base Camp II: 4,620 masl
High Camp: 5.700 masl
Highlights:
Ascending the highest peak in Bolivia, second highest volcano in the world.
Visiting the Protected Area Sajama's National Park, for Andean fauna and flora.
Beautiful Andean landscapes.
Possibility of bathing in thermal waters.
Visit to the "Sixtina Andean Chapel" in Curawara.
This beautiful mountain is located 5-6 hours by road from La Paz. It offers a magnificent view of southwest Bolivia as well as great climbing and trekking opportunities at this sleeping volcano.
It was climbed for the first time in 1939 by Josef Prem and Wilfrid Kumm (Kuhm), Austrian, and the Italian, Piero Ghigione.
Located in the protected area, The Sajama Park is hammered by a constant cold from 6 to 30 degrees below zero at night and from 5 to 10 degrees during the day. From May to August, the winds from the Argentinean Patagonia with speeds up to 180 Km/h, sweeps the area.
The normal Sajama route is not technically difficult, but it is still very important to take all the necessary precautions, since it is a high peak with strong winds.
Itinerary:
Day 1: La Paz 3.600m – Sajama village 4.220m – Base Camp 4.600m
Departure from La Paz in private transportation. On the way we will visit ancient Aymará tombs, called "Chullpares", before arriving in the National Park of Sajama at 4.220m. We continue with our ascent to Sajama base camp at 4.760m, mules will carry the necessary gear.
Easy walk for approximately 4 hours. We will approach the queñua forests (Andean tree), and discover the fauna of the area in the Huayña Khota lagoon, such as the vicuñas, viscachas (wild rabbits), and suri (wild rhea).
Camping
Day 2: Base Camp 4.620 – High Camp 5.500
We'll ascend to the high camp, with the high altitude porter's assistance. Camping at 5500 m. This trekking takes about 5 hours and porters will help us carrying our gear.
Day 3: Attempt to the summit 6.542
Very early in the morning we start our attempt at the reach the top of the Sajama Volcano at 6.542m. The climbing is quite demanding yet without technical difficulties, being well worth the effort with rewards of very impressive views from the top. After that we return back down to base camp.
Day 4: Base camp 4.620 – La Paz 3.600
We trek back to Sajama village with the help of the muleteers and their mules, all the way back to Sajama Village. The descent goes through the same route; we will have a chance to have a good and refreshing soak in the hot springs, before returning to La Paz city.
Included in the program:
Private transportation round trip.
Professional mountain guides (one guide for every 2 climbers)
Fresh and tasty meals during the expedition.
3 nights camping in mountain tents
Camping gear - foam and air mattress, two person tents (Type: 4 season's)
Crampons, gaiters, harness, and ice axe, mountain helmet
Dining and kitchen tent.
All the entrance fees to the national park.
Porters to help with most of the gear, from base camp of Sajama to the high camp and back.
Mules for carrying the gear from Sajama lodge to base camp and back.
Oxygen bottle
Excluded:
Warm clothes, sun glasses, and personal cleaning items.
Mountain boots, sleeping bag (optional for rent)
Insurances of any type, medical expenses, cost of evacuation.
Charges incurred as a result of delays and itinerary changes beyond the control of Pukina Travel, we recommend travel insurance to cover any unforeseen costs.
Tips and gratuities
Alcohol and/or bottled drinks
We recommend limiting your bag weigh to 8kilos/17pounds
Extras.
Prices depend on the number of clients
Please contact us at this email to discuss budget: info@pukinatravel.com or send us a Whatsapp message at +591 73088333