Climbing
5d4n Condoriri climbing expedition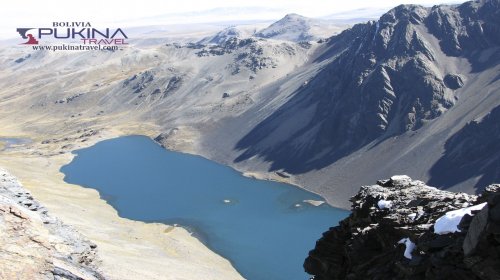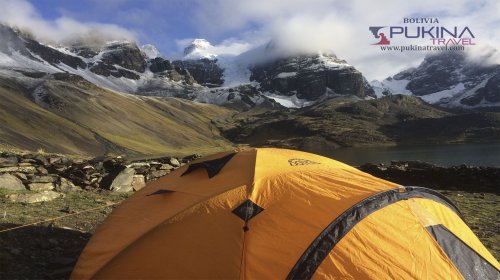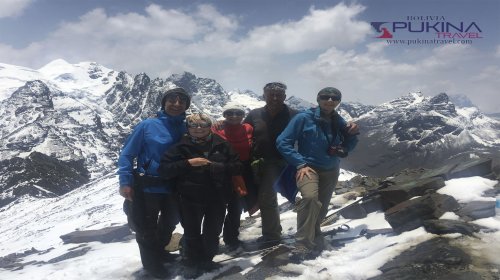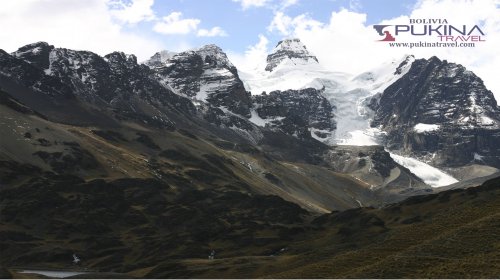 5 Días
|

Camping
|

Transport
|

Feeding
5d4n Condoriri - Austria - Tarija - Pequeño Alpamayo
The Condoriri massif is a cluster of thirteen mountains that rise over 5.000m, forming a circle of colors and beauty. Its name given is based on its similarity to a condor with outstretched wings.
This program is just great for mountain enthusiasts and for those looking for a good acclimatization before the attempt of climbing other mountains considered as more technically difficult in the Andes range.
In this climbing adventure you will reach the top of Pico Austria 5340m and two snow caped mountains in the region, Mt. Ilusión 5.350m; Mt Pequeño Alpamayo. We will have as a camping base the Chiarkhota Lagon with 4.600. Our expert U.I.A.G.M mountain guides will assist you at all times.
Day 1: La Paz – Plaza de llamas – Chiarkhota lake
We pick you up from your hotel, where there will be an approximately two hour drive to Lake Tuni. Our muleteers and mules will be waiting for us and help us carrying most of the equipment to our base camp area near the shores of Chiarkhota lake. In the afternoon there will be time to enjoy the beautiful landscape of the area.
2 hours driving, 3 hours trekking.
Meals included: lunch and dinner
Night accommodation: tents or mountain lodge
Day 2: Austria Peak
From our camping site, we'll exit the valley of Condoriri. From here it will take us about 1 and a half to 2 hours to make it to Austria Peak 5340m making it a 3 hour climb overall - steadily climbing in a switchback pattern until we reach the ridge which will take us to the top. Once at the top, you'll be treated to striking views of peaks of Condoriri Range. In the left flank of Condoriri Peak with its glacier, you'll find that the hike is not difficult but an excellent trekking for acclimatizing prior to tackling other peaks. The descent shouldn't be any more than 3 hours back to our camping site.
Meals included: breakfast, picnic and dinner
Night accommodation: tents or mountain lodge
Day 3: Mt. Ilusión
Get ready for an early start, in order to reach the summit of Mt. Ilusion (5,350m). It is not a high climb but the approach gives us the opportunity to practice different skills (eg. glacial traverse) and helps in our preparation for the Pequeño Alpamayo the following day. The climbing will take 4 hours, plus 3 hours to return down to our camping site.
Meals included: breakfast, picnic and dinner
Night accommodation: tents or mountain lodge
Day 4: Pequeño Alpamayo
We will have a long day to reach the top of Mount Alpamayo, at 5400m. The beginning of the day is approximately 4 hours, until we enter the west side of the face where the climbing becomes more technical and will take us approximately 2 to 3 hours. We will ascend without technical difficulty until the pass Tarija 5300m, and then a technical wall of 80 meters with 55º allows us to pass and reach the top. Upon the attempt reach the top, we return the same way 4 hours down to our camp site.
Meals included: breakfast, picnic and dinner.
Accommodation night: tents or mountain lodge
Day 5: Back to La Paz
After a good rest and breakfast we start our way back to La Paz, short trekking to Estancia Tuni, where our vehicle will be waiting for us about 3 hours' drive to arrive to your hotel in downtown La Paz.
Meals included: breakfast and picnic
Night accommodation: not included

INCLUDED IN THE PROGRAM:
Round trip in private car.
Mules to carry the camping gear, meals and mountain gear
Cook
Tasty fresh meals during the expedition.
Certified U.I.G.M mountain guide (English speaking) 1 mountain guide every 2 clients
Oxygen bottle for evacuation
We provide without any extra cost:
Climbing gear: Crampons, gaiters, harness, mosketoon, ropes, mountain helmet and ice axe.
NOT INCLUDED IN THE PROGRAM:
Warm clothes, sun glasses, and personal cleaning items.
Insurances of any type, medical expenses, cost of evacuation
Charges incurred as a result of delays and itinerary changes beyond the control of Pukina Travel, we recommend travel insurance to cover any unforeseen costs.
Alcohol and/or bottled drinks
Accommodation before and after the expedition
Sleeping bag, -10Cº recommended (optional for rent)
Plastic boots, optional for rent
Tips and gratuities
Extras.
We recommend limiting your bag weigh to 10kilos/22pounds
Prices: Depend on the number of clients, please contact us at this email to discuss budget: info@pukinatravel.com or WAPP+591 73088333