Trekking
14d13n Llama Trek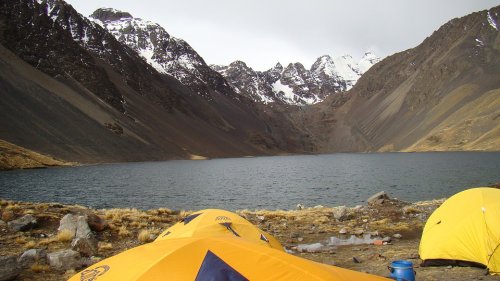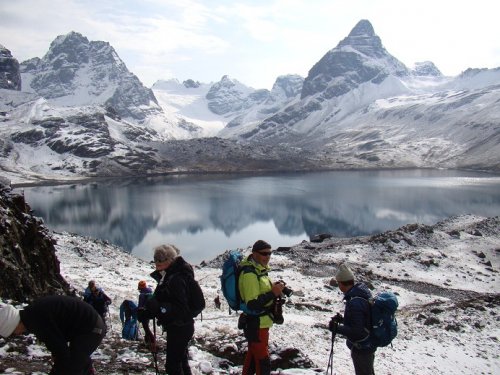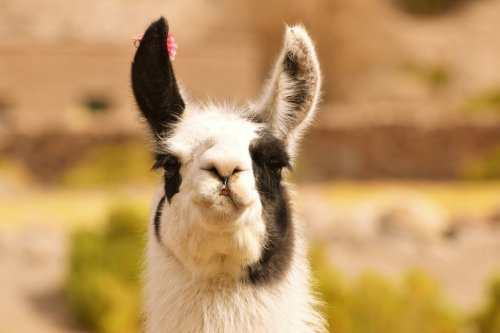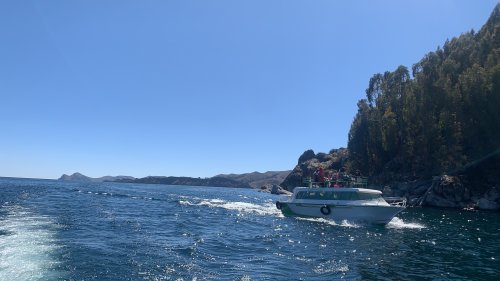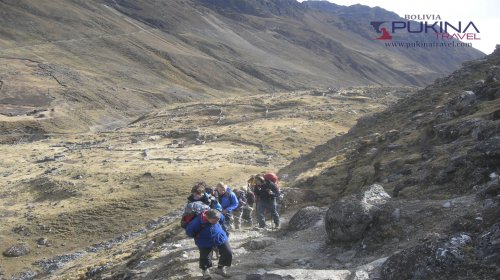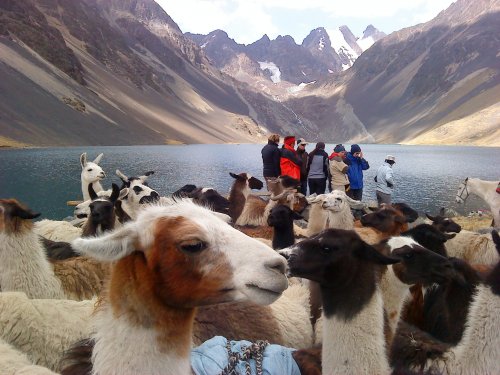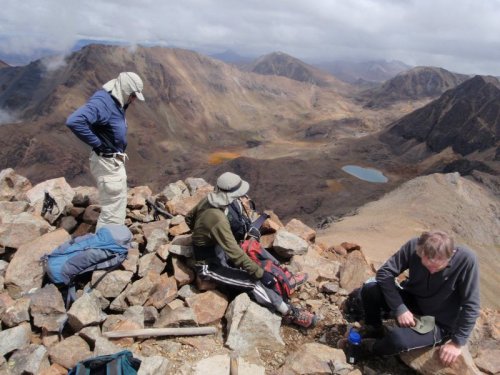 14 Días
|

Lodging
|

Camping
|

Transport
|

Feeding
CORDILLERA REAL TREKKING 14 days 13 nights
Highlights:
A wide range opportunity to discover the Bolivian's culture.
Walking through the Inca place birth in the enigmatic Sun Island.
An extraordinary trekking along the Royal Mountain range through old trails.
During those 14 days, we must be prepared for all the weather conditions: Summer with sunshine, autumn with hail and quick rain and snow on the trail. We will be passing pristine Andean lakes, crossing through Inca trails and observe the Condors and countless llamas and alpacas along the valleys. The noble llama carries all the supplies for us on this trip. On clear nights, the Milky Way and southern constellations can be seen with astonishing clarity. It is advisable to be in good shape for the hike.
The best season to walk in these spectacular landscapes is from May to November.
Day 1: Arrive to La Paz, Transfer service to downtown
Today our driver will be waiting for your arrival, transfer to your hotel in La Paz. In the afternoon meet our guide for a briefing of the trekking tour.
Day 2: COPACABANA - ISLA DEL SOL
Early departure to Copacabana village, in the shores of the Titicaca Lake (3.5 hours' drive), then we will continue towards the Sacred Isla del Sol, after one hour of boat ride we will arrive the southern part of the island, enjoy the magnificent scenery in the Inca´s garden and fountain of eternal youth, our day will end with an uphill walk to find our hostel near Yumani community.
Day 3: TREKKING IN THE SUN ISLAND – SORATA
After breakfast, we will be ready to start a walk (30 minutes) through Yumani to the harbor in order to continue by boat to Kalaque village on the other side of the lake, (33.2 km distance), our transportation will be waiting for us, from this point we continue by road towards Sorata village (altitude 2.800 m.), A village located in a lush, temperate valley near the base of Illampu's west flank. Hotel accommodation
Day 4: COCOYO.- Leaving from Sorata, in a four wheel drive vehicle, we will Ascent to Korhuasini pass (4.400 m.), then descent to Chajopaya valley have panoramic views of Chiarhoco massif (3.950 m.). Camp. 3-4 hours' drive.
Day 5: CHAJOLPAYA.- From Sarani pass (4.500 m.), we have panoramic views of Chiarhoco massif. Camp at 3.950 m. 6 hour trek.
Day 6: NEGRUNI.- Trek up to Negruni pass (4.850 m.). Camping near the river at 3.900 m. 5 hour trek.
Day 7: LLOCO-LLOCONI - Keakeani pass (4.450 m.). Descent the valley. Camp near Palca village (3.900 m.). 5 hour trek.
Day 8: HUARI HUARINI.- 3 hour climb to Hankolacaya pass (4.700 m.). 2 hour descent to Huari Huarini valley. Camp at 4.450 m. of altitude near Hankolacaya village.
Day 9: HANKOKHOTA.- 2 hour ascent to Wita Llojeta pass (4.950 m.). Important saddle crossing the mountain chain from east to west. 3 hour descent along the Hichukhota valley. Camp near Chojñakhota lake (4.420 m.)
Day 10: Free day to recover energies and get fresh supplies from La Paz
Day 11: AJWANI.- A winding, 5 hour trek near the Chacapa massif. Abandonned gold mines along the route. Camp near Ajwani lake (4.700 m.).
Day 12: JURIKHOTA.- Climb to 2 passes: Janchallani at 4.860 m. and Jurikhota at 4.900 m. Camp on the shores of Jurikhota lake (4.700 m.). 6 hour trek.
Day 13: CONDORIRI.- 4 hour ascent to Apacheta pass (5.100 m.), the highest pass on the trip. 2 hour descent to Condoriri base camp. Camp near Chiarkhota lake (4.650 m.).
Day 14: CHIARKHOTA LAKE – LA PAZ
Today we will have a short trek 1.5 hours from our base camp to the meeting point where our transportation will be waiting for us. From this point we will spend about 2 hours driving before to arrive to La Paz. Hotel accommodation.
The service Includes:
2 nights hotel 3* accommodation in La Paz
1 Night hostel in Sun Island (South Section)
1 Night Residential in Sorata
All the meals during the trekking portion
Breakfast: juice, tee, café, chocolate, milk, cereal, yogurt, bread or pancakes, marmalade
Afternoon while the cook prepares the dinner: hot water (tee/coffee and cookies.)
Midday meal: cold meal: Sandwiches, fruits, chocolate, candies, boiled water
Dinner hot meals: soup of vegetables or cream or quinoa and a main course.
Shared bus service from La Paz to Copacabana
Motor boat from Copacabana to Sun Island and to Kalaque; Private transportation from Kalaque to Sorata, then to Cocoyo in a four wheel drive, private transportation from Chiarkhota lake to La Paz
Llamas to carry most of the gear: camping gear, and your backpacks
Guide (English speaking trekking guide)
4 season tents, foam mattress, air mattress
Not Included:
International round-trip airfare to La Paz, Bolivia
Meals, hotels and transportation outside the regular itinerary
Personal gear (sun lotion, water proof clothes, wind breaks, warm clothes, personal medicine)
Sleeping bag, walking sticks
Single-room supplement for hotels
Medical/Evacuation trip insurance
Charges incurred as a result of delays and itinerary changes beyond the control of Pukina Travel, we recommend travel insurance to cover any unforeseen costs. Contact our office for more information.
Tips and gratuities
Alcohol and/or bottled drinks
Hotels, meals, transportation or reimbursements should the program end early.
All expenses for early departure from team (such as non-scheduled transfers, meals and hotel rooms).
Prices: In order to get your quote, please contact us via email: info@pukinatravel.com or Whatsapp: +591-73088333