Favorites
1d Sajama National Park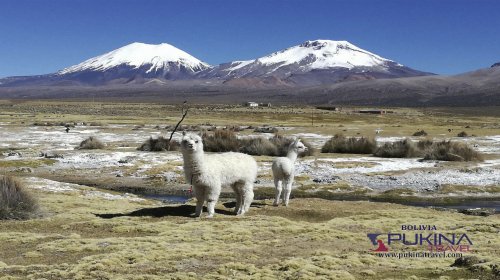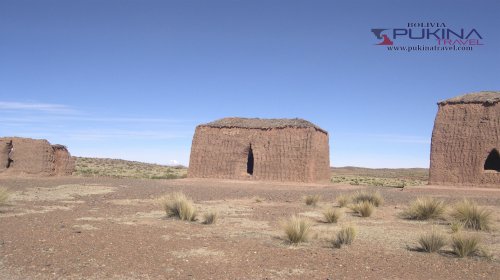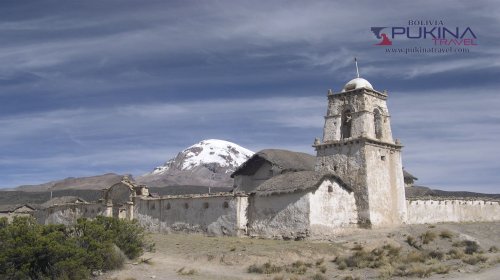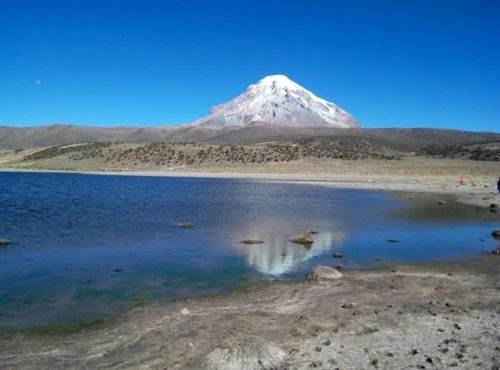 1 Día
|

Transport
|

Feeding
1d Sajama National Park
HIGHLIGHTS:
Imposing views of the second highest volcano in the world, 6542 m.a.s.l
Plenty of photo opportunities of the perfect snow-caped peaks Parinacota and Pomerata.
Enjoy thermal waters, views of the geysers, and other volcanic activity.
Chance to see the wild vicuñas, ibis, and perhaps the Andean ostrich-like rheas.
Located in the Department of Oruro, on the border of Chile, it is part of the Western Mountain range and it is characterized to be a volcanic area. In the park we find the snowy Sajama volcano, considered as the highest of Bolivia 6542m. This area of the high plateau protects the highest "queñua" forest (Polylepis Tarapacana). The park is particularly rich in cattle rising, it is home to a very significant population of Alpacas and Llamas.
Departure from the hotel is at 06:30am driving along the international road which joins La Paz, Oruro and Chile. On the way (after– 3.5 hours of drive) we will see some old Aymara Tombs on the way. Then we will stop in Curahuara de Carangas, an old village, to visit a beautiful Church which was constructed towards the end of the XVI century, right in the middle of the town. It has a portal which is completely covered with murals and caisson images. This art has a predominant religious-biblical motive.
After this visit we will arrive at Sajama National Park. Once we get there, we will approach the geysers and explore this place full of bubbling activity which reminds us the formation of the earth. Later on we continue to the hot springs. It is possible to enter the healing waters and have a good soak. Then we will visit the Huayña Khota lake to see flamingos. If we are lucky we will also observe the Andean Suri ( Rhea pennata)in the surrounding area. In the area there are also small herds of vicuñas, very appreciated for their fine wool. Then we start our drive back to La Paz, and transfer to your hotel, arriving at approximately 18:30pm.
Prices per person: 160usd, base 2 clients
For other rank prices, contact us at this email: info@pukinatravel.com or WAPP+591 73088333

INCLUDES:
Private transport vehicle
English speaking guide.
Lunch in Tomarapi lodge
All entrance fees
NOT INCLUDED:
Personal equipment: sun glasses, sun lotion, warm clothes, medicine
Bottled drinks
Tips
Extras: health insurance