Favorites
1d Death Road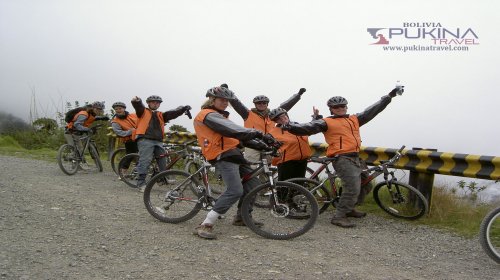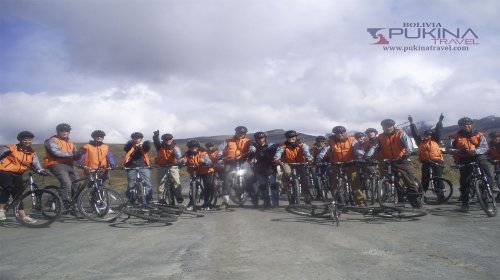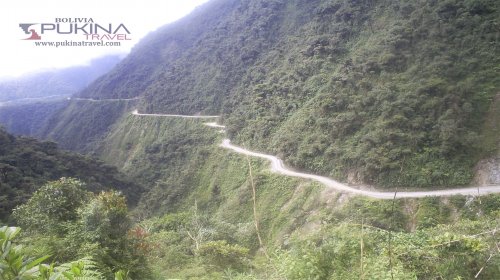 1 Día
|

Transport
|

Feeding
Death Road
Highlights:
Incredible scenic variety and a spectacular descent of more than 3,600m/11,800 feet, from snow-covered high-altitude plains and mountain ranges down to the steaming Amazonian Jungle. Part of the ride is on the dramatic and scenic "World's Most Dangerous Road," named such by the Inter-American Development Bank in 1995, and locally known as "The Death Road" or "Camino de la muerte".
64kms (40 miles) of downhill riding with only a few small uphills and a couple of flat bits!
After the ride relax at La Senda Verde Cabins and Animal Refuge, complete with rescued monkeys, parrots, snakes, and much more.
Stay a night or three at La Senda Verde (camping or in cabins), enjoy the swimming pool and the river, return with us to La Paz the same day, or we can arrange to take you up to the quiet, sub-tropical jungle town of Coroico where you can find a wide variety of hotel accommodation. Continue from Coroico to Rurrenabaque and the Amazon Jungle, or return at your leisure to La Paz.
The tour is suggested to:
Confident beginners to experts, average fitness and above, and in particular, those looking for a long, world-class, downhill mountain bike ride.
Description:
We begin the ride at wind-swept La Cumbre (4,700m/15,400 feet) where you'll see fantastic views of a number of snow-covered peaks, including Huayna Potosí (6,088m/19,973 feet). From here we descend rapidly down a twisting asphalted road among mountain peaks, grazing llamas and alpacas, tiny villages and a drug check-post. We stop for refreshments, photos, and rests along the way -- all the better to give us time to take in the scenery: towering cliff faces, dramatic drops and ever greener vegetation, while preparing ourselves for the next breath-taking section. After a snack we descend further, and after a brief undulating section of road we enter the jungle itself and the most challenging part of the ride. This infamous narrow dirt road is cut precariously into the side of the mountain and descends 2,000m (6,500 feet). With 1,000m+ (3,300 feet) sheer drops off to our left and hulking rock overhangs and cascading waterfalls to our right, we ride through mist, low clouds and dust. With your positive attitude and our expert instruction, coaching and supervision you can safely enjoy some of South America's most dramatic and beautiful scenery as you hurtle down the road. (Note that since March 2007 the majority of traffic has stopped driving down the WMDR, and now drives down the new road, leaving the road for us to enjoy without battling loads of trucks, buses and cars!)
As we get closer to the end of the ride it gets progressively hotter and dustier. By the time you arrive at the bottom in Yolosa (1,100m/3,600 feet) you will be tired, hot, dirty and exhilarated. Just below the village of Yolosa we ride down to La Senda Verde Animal Refuge where we enjoy a late pasta and salad buffet lunch, take in the magnificent scenery, spend time relaxing by the pool, enjoying a cold drink and getting to know the rescued animals. Note: We can offer you the option of overnighting at La Senda or up in Coroico rather than returning to La Paz the day of the ride, in which case we'll deliver you and your backpack to the town square of Coroico. Many people take this option and then take a bus the next day from Coroico to Rurrenabaque and the Bolivian Amazon Jungle.
Total Time Required: Start in La Paz at 7:30 am, drive to La Cumbre 1 hour, then ride 4-5 hours, rest and relax at La Senda Verde Cabins and Animal Refuge for a couple of hours (for a hot shower, a pasta buffet, a swim, and time with the animals), then 3-4 hour drive back to La Paz, for a return time of around 8-10pm. Those staying in Coroico should be in the town square around 4-5pm.
Approximate Riding Time: 4-5 hours
Approximate Downhill: 90% (one section contains a few small uphills)
The World's Most Dangerous Road - Tourist Entrance Fee Please note that the Municipality of Coroico recently introduced a small charge (currently 25 bs.) for bikers riding The World's Most Dangerous Road to Coroico. The money raised from this entrance fee will be used to fund much needed infrastructure projects such as:
Clean Public Toilets on the route
Road Maintenance (since the road is not used by much traffic now, without this fee it could be closed without maintenance)
Safety, emergency and rescue facilities.
PLEASE MAKE SURE YOU BRING 50 Bs. in CORRECT CHANGE on your World's Most Dangerous Road ride. This money will be collected by an official from Coroico during the day (at Unduavi) and you will receive a nice legal receipt/souvenir in exchange.
Thank you for your understanding.
Includes:
Mountain biking helmets and full-finger downhill gloves.
One experienced and qualified guide for every 7 riders.
Information and instruction in English all the way through the ride.
Radio communication along the way
The guides and driver plus a mobile phone for emergencies.
Exclusive support vehicle and no extra charge coming back from the Yungas area with us.
Qualified mechanics, spare bikes and tools.
First aid supplies and trained guides in case of an emergency.
A beautiful T-shirt as a souvenir
Cycling-specific dust jacket and riding vest.
Mountain biking goggles
Buff to help keep the dust out of your mouth
Delicious meal once we arrive to the hotel plus snack and water on your ride.
Pictures of your experience.
Not Included:
Health insurance insurance (must cover the activity of mountain biking)
Breakfast
Payment of 50bs of entrance fees, This money will be collected by an official from Coroico during the day (at Unduavi) and you will receive a nice legal receipt/souvenir in exchange.
Unique price per person: 125 USD.